"A MORE PERFECT UNION" EXHIBIT FEATURES NEW WORKS BY STREET ARTIST SCOUT
Scout creates graphic mixed-media pieces influenced by graffiti and street-art that juxtapose colorful paint, vintage clip art and found images to create vital works of protest.
He's an artist for the Resistance. In the aptly titled "A More Perfect Union," an exhibit of new works at Thompson Giroux Gallery in his hometown of Chatham, New York, street artist Scout (aka Scout Pines) takes a hard look at what it means to be an American today.
"I want to challenge the notion that being a patriot is blindly going along with what your government tells you. Being a patriot is fighting for the notions of equality and true freedom," says Scout, née Brian Buono, a self-taught artist who combines his background in graffiti and street-art with a love of American folk-art to create graphic, layered works.
There has always been a political element to Scout's work. The Capital Region native, now based in Chatham, is known for his folk-art portraits of people who are overlooked and marginalized. When working in the street, he installs his stencil-art paintings on abandoned buildings, where they disappear as fast as they went up.
Scout's paintings are typically rendered with spray paint or house paint on reclaimed plywood, often on old metal, wood or other found materials sourced from abandoned and derelict buildings. For this show, for the first time, he decided to use large canvases – "a conscious decision to try something different," he says.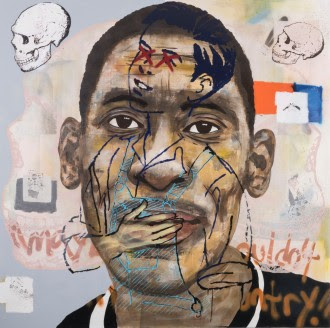 "THERE IS NOTHING IN THE WORLD MORE DANGEROUS THAN A DEFEATED ARMY HEADING HOME," 2019, 60″ X 60," MIXED MEDIA ON CANVAS
One colorful piece, "There Is Nothing in the World More Dangerous than a Defeated Army Heading Home," a 60" X 60" mixed media on canvas, combines an image of a Black Lives Matter protestor staring directly at the camera with vintage clip art of a young boy with his hand over his heart reciting the pledge of allegiance.
"It looks like he's covering up the mouth of the protestor," Scout says. "That sums up the dialogue that I'm trying to have with these pieces."
The pieces contain a lot of red, white and blue, and flag imagery. There are also blue, white and orange color schemes – in a nod to Albany and its Dutch influence and notions of colonialism. Much of the clip art hails from the 1940s and '50s. "I take that imagery designed for advertising companies to help sell people things, and insert it into a new context," he says. "I still use stencil as a base, but I often paint over and obliterate it."
For Scout, the work is about trying to remain hopeful in trying times. And about making people think. "You really can feel disenfranchised in this political climate. It feels like we're regressing in so many ways," he says. "The act of creation is a coping mechanism – a form of therapy to help process what's happening in this country. It becomes important to find something local and grassroots to focus your energy on, where you can really see actual change." - jetpackpromotions